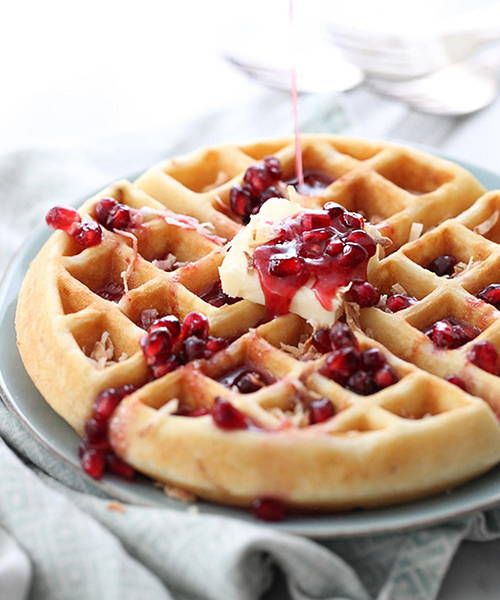 COCONUT WAFFLE WITH POMEGRANATE SYRUP
1 1/2 cups self-rising flour
¼ cup cornstarch
¼ cup sugar
¼ teaspoon salt
½ cup milk
1 13.5 ounce can of coconut milk about 1 cup coconut milk
2 eggs
2 cup Little Caria Pomegranate Extract Syrup
½ cup virgin coconut oil melted and slightly cooled
1 ½ cup shredded coconut lightly toasted, plus more for garnish
Mix the self-rising flour, cornstarch, sugar and salt in a large bowl.
In a medium size bowl, whisk the milk, coconut milk, coconut oil and eggs until combined.
Mix the wet ingredients into the dry ingredients with 3/4 cup toasted coconut, careful not to overmix.
Let mix rest for 10 minutes while the waffle iron is heating up.
Spray a waffle iron with cooking spray and heat until the waffle iron is hot.
Cook the waffles in batches until golden brown.
Top with additional toasted coconut and serve with Little Caria Pomegranate Extract Syrup.