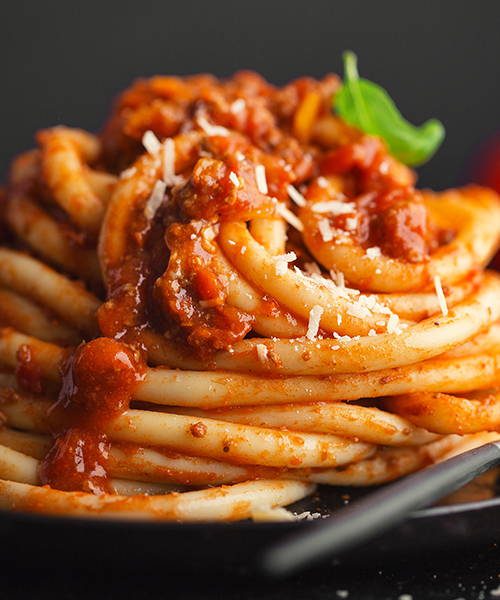 SPAGHETTI BOLOGNESE WITH RED HOT PEPPERS SAUCE
Olive oil – about 3 tbsps
1 clove of garlic, finely chopped
1 brown onion, roughly diced
Salt to taste
1.5 tbsps Yenigün Red Hot Peppers Paste/Sauce
1 tsp caraway seeds
500g/ 18 ounces mince beef
2 x 400g/ 14 ounces canned tomatoes (I used whole & peeled tomatoes)
Freshly grind black pepper
Sugar to taste
30 minutes of simmering time
In a large pan, heat 2 tbsps of olive oil over medium flame. Then add garlic and onion with a pinch of salt and saute until the onions almost become translucent.
Add Yenigün Red Hot Peppers Paste/Sauce, caraway seeds and 1 tbsp of olive oil.
Saute over low flame until the oil becomes red and aromatic (from the scent of paprika).
Brown beef over medium flame and then add canned tomatoes and some freshly ground black pepper. When the mixture begins to bubble, turn the flame to the lowest possible and allow it to simmer for 30 minutes.
In the last 15 minutes of the cooking time, season the sauce with salt and sugar to taste.
Add more black pepper if you wish. After that, you can start boiling the spaghetti in salted water according to the packet instructions and drained.
Toss the spaghetti in bolognese sauce and serve with parsley and grated parmesan.