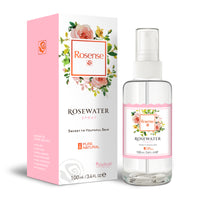 Rose Petals Rose Water, 100% Pure Natural Rosewater (No Additives, No Preservatives, No Chemicals, No Added Fragrance) from Turkish (Isparta Region) Roses

The Essential Oil rose ROSA DAMASCENA is the most favored rose for producing rose oil and rose water. It has been produced in Turkey's Mediterranean region in ISPARTA, the land of ROSES for over 100 years. Rosense is the world's the finest natural rose sourced beauty brand.

Rosense rose water is produced by using a distillation technique from the damascena rose petals. There are no chemical preservatives added during distillation and the product is completely free from any petrochemical derivatives and chemicals.
Rose Water Uses
Freshen your face or body throughout the day by spraying rosewater mist on your skin.

Use rose water as a skin toner to regulate the pH balance of your skin.

Rosense Rose water is a mild natural cleanser-moisturizer and a treat for the senses.

Rose water can also work as a natural makeup remover. Simply mix with coconut oil.

You can use rose water as an after-shave, to prevent irritation and soothe the skin.

Add rosewater into your bath for divine and unforgettable experience.